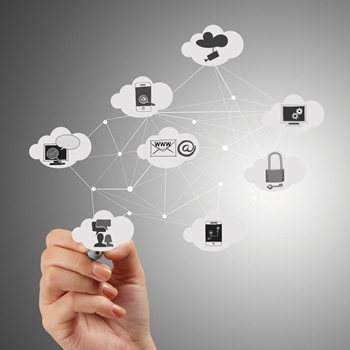 12 February 2014
When hosted PBX services began hitting the market, they were primarily targeted toward small businesses, especially those with 10 or fewer employees who typically find it difficult to handle the management of an on-site PBX. Although hosted PBX services are still suited for smaller organizations, they have been recently expanding their reach towards mid-sized and large businesses.
Larger companies, usually have the needed staff and infrastructure in place to support a premise-based PBX.  Also, since most of the calls made in large firms are internal, there is less incentive to route calls in and out through a hosted service.
So, which larger enterprises are most likely to turn to hosted PBX? The answer is clear – those enterprises with multiple small to medium sized branches, distribution outlets, or dispersed home workers.
Using hosted PBX solutions to support multi-branch models
Many businesses are evolving from large, centralized headquarters towards a branch-based model. Other major companies may have hundreds or thousands of retail locations.  However, geographical diversification is not exclusive to those organizations. For example, a medical organization will often have a large number of interconnected clinics, rehab centers and specialized services spread over a metropolitan region.
Organizations embracing multiple sites face a major operational challenge when establishing PBX infrastructures. The infrastructure needs to be installed and managed in each individual branch. This forces businesses to invest heavily in switches and other hardware. Companies also have to develop the technical staff needed to manage all of these systems spread over diverse locations. The cost and management of a premise-based PBX setup can be a major burden for organizations with a large number of branches. Other companies may install the infrastructure centrally in their headquarters to connect with their multiple branches and manage it on their own. However, this option still requires a great deal of maintenance and staff.
Hosted PBX services eliminate these burdens by moving the infrastructure to a centralized location in the provider's data center. The telephony provider assumes all the service management responsibility. The end result is a situation in which companies only need to buy the actual phones. This not only reduces costs, it alleviates management burdens and provides a variety of secondary benefits like built-in redundancy.
Hosted PBX Services and the Cloud Revolution
Many businesses are realizing that investing in cloud solutions reduces their capital costs and eliminates mundane operational tasks that bog down IT workers. This allows companies to give their technology experts more strategic tasks that contribute to revenue generation. Cloud computing is beginning to leak into many phases of corporate operations, and many organizations are looking for ways to implement hosted services in a variety of areas.
A hosted PBX strategy fits well into this broad move towards cloud computing and third-party IT services. If you are turning to the cloud for many technology services, but still handling all of your telephone management internally, you are going to be left with IT teams burdened with PBX management. Conversely, implementing a hosted PBX solution frees IT to focus on making sure the telephony service is supporting collaboration and customer service goals.
Adjusting IT's role from hardware management to strategic engagement can deliver incredible value and bring technical expertise to a wider range of operations. This is only possible as organizations move more systems into cloud and hosted services. Hosted PBX plans play a vital role in this process, reducing costs, easing management burdens and reducing overhead for companies balancing operations across a large number of branches.