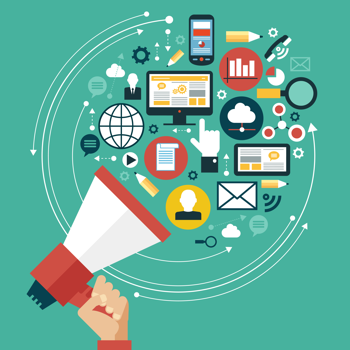 18 December 2014
With 2014 coming to an end and a new year almost upon us, now is a good time to reflect on the marketing lessons we learned in the past year. Although underlying Marketing principles of solving customer problems, forging a strong relationship with customers and effective story telling remain the same, marketing trends evolve with every passing year. Businesses that recognize trends and utilize them effectively succeed in differentiating themselves from the competition. Here are five of the biggest marketing trends of 2014:
1. Content marketing is here to stay
Keeping website content fresh is a labor-intensive endeavor; good content doesn't just produce itself. However, we've seen that content marketing is not only a worthwhile investment, but a necessary one to increase brand awareness and web traffic, as well as provide value to customers and prospects. High quality content that offers value to readers, shared frequently on the company website and social media, optimized for search engines, dominoes from higher search engine rankings to more visitors to more sales leads to more conversions.
2. Mobile is king
This has been several years in the making, but 2014 was the year when mobile internet access overtook computer web access. With so many people accessing websites and blogs from their smartphone or tablet, responsive web design went from a nice-to-have to a must-have, and seemingly little things like click to call functionality became important in facilitating easy interaction with customers.
3. If at first you don't succeed, retarget
According to AdRoll, only 2% of shoppers make a purchase on their first visit to an online store. In 2014, we saw a sharp rise in retargeting, or user-specific ads and emails designed to bring back potential customers. This makes sense, because all the product information is available at the touch of a button, and chances are, by the time a customer hits that buy webpage, she's already made a decision
4. Video – the ultimate show not tell medium
Video is becoming the highest converting content medium. Video has the power to quickly capture the audience's attention and tell the story in a short and memorable way.
Online shoppers are 1.8 times as likely to buy as customers who did not watch a video, according to new research from video marketing firm Invodo. The study also found that 65% of viewers watch more than three-quarters of a given video, which shows a high engagement rate.
5. Don't make things complicated
Simplicity has always been an important key to success, but with so much new technology, and so many new approaches to old problems, it's easy to lose sight of that bit of wisdom. Last year though, businesses really seemed to take simplicity to heart and understand that complication only leads to confusion. Whether it was web design that was easy to navigate or pitches that were direct and to the point, keeping things simple was a clear goal. When we are so overwhelmed with products and services, content and information, keeping offerings and messaging simple and focused is a great way to cut through the clutter.