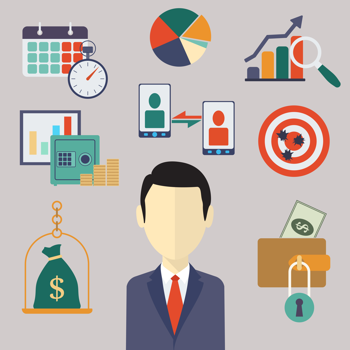 19 December 2014
The world of B2B sales is constantly evolving. New technologies are introduced, new expectations arise, and approaches that were successful two or three years ago may no longer be viable. As the book closes on another transformative year, here are six B2B trends, tactics and ideas to consider for 2015.
1. Know what your client knows
Clients today have more expectations because they are more knowledgeable about what they want. Most clients do their research before even getting in touch with a sales representative. In fact, according to Direct Marketing News, most customers are mentally at least two thirds of the way toward making a purchase before they ever pick up the phone or send you an email. To close a sale, reps need to be aware of where a potential client is knowledge-wise and then be able to offer new and helpful information.
2. Update your CRM
CRM software is becoming more streamlined and more useful than ever, working seamlessly with social media, email and telephony. With the latest CRM's, you learn much more about your customers because you have your entire relationship history with that customer right in front of you. This, in turn, allows for more customized services and better lead conversion. If your CRM is out of date, make 2015 the year you get current. True, updating is an expense, but if your CRM software is old or out of date, you could be losing business.
3. Move toward sales and marketing synchronization
The integration of B2B sales and marketing has been talked about for a number of years, but recently there's been a different buzzword: synchronization. By keeping all of your marketing efforts focused on sending a clear and consistent brand message, no matter what platform the message appears on, you strengthen your brand and encourage open dialogue with clients and potential clients. You also limit confusion and dissonance, making sales conversions more likely to happen.
4. Be mobile-friendly
Many of your potential clients will be conducting research and communicating on a smart phone. A responsive website is an imperative these days; if your company and your brand don't look good on a small screen, you lose an edge. Take the time to look at how your brand is represented on mobile devices, and make improvements as needed.
5. Continue to be social
It may be extra work, but keep up your company's marketing momentum by continuing to focus on social media. Anything you can do to emphasize your brand and message can stick with potential customers and make a sale more likely. In 2015, keep the buzz going.
6. Remember to be present
In our Tweet-it and text-it lives, we can forget that nothing can truly replace a face-to-face conversation. This year, make a point to show up at events and trade shows, and be available to meet with potential clients and partners individually. Sometimes, that in-person contact can make the difference between a conversion and a lead going cold.