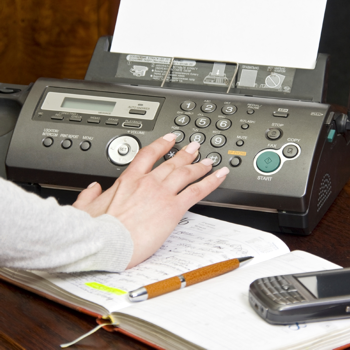 20 January 2015
The simple answer is that T.38 is a protocol for fax-over-IP (or FoIP), much like VoIP allows users to make voice calls using their internet connection. If you're wondering why a separate protocol is necessary for sending faxes, or if you're confused about why faxes are still relevant in our current business world, read on.
Fax Is Still Alive
Given the ease with which we can send images and multimedia via email, it may seem like the once-ubiquitous fax machine is obsolete. While it's true that many businesses no longer use fax, it continues to be an essential part of transmitting official documents in the legal, financial, government, and health sectors. As a recent article in Fortune magazine, put it, faxes are still "entrenched into the fabric of current business operations" for these industries.
The Problem With Fax Using VoIP
While VoIP is an ideal solution for inexpensive voice calls and optimal phone system functionality, it simply doesn't work well for fax machines. The problem arises from trying to use an analog machine on a digital signal. This comes down to two issues: audio compression, or making data packets smaller for faster transmission, and jitter, or small delays in transmission that result in audio drops that last a fraction of a second.
VoIP uses lossy (as opposed to lossless) audio compression; the sound is put through a codec that does not noticeably compromise voice quality but yields poor fax image quality. That is, if the fax can go through at all. The bigger problem is audio jitter, which can interfere with how fax machines communicate with each other. Again, most jitter is not noticeable on VoIP voice calls (and some VoIP equipment even provides a jitter buffer to optimize audio performance), but for sending faxes, it can be a serious impediment.
Enter T.38 Fax Protocol
Fortunately, the problem of sending a fax over VoIP can be remedied using a VoIP Gateway with an Analog Technology Adapter (or ATA) that supports the T.38 fax protocol. Using T.38, a fax is scanned using a standard analog fax machine, converted to an image, relayed over the Gateway, converted back to an analog fax signal, and printed out on the receiving machine.
T.38 fax also works with many of the leading fax servers. If you are converting your business's phone systems to VoIP and are already in possession of a fax server, you may be able to use T.38 FoIP using the equipment you already own.
If you're using VoIP and you want to use fax as well, FoIP with the T.38 protocol needs to be configured with your business's VoIP service. Once that's done, you should be able to send and receive faxes with the same results as a more traditional phone line. T.38 is a popular option for businesses that want to enjoy the benefits of digital telephony but still need the image transmission that an analog fax machine can offer.