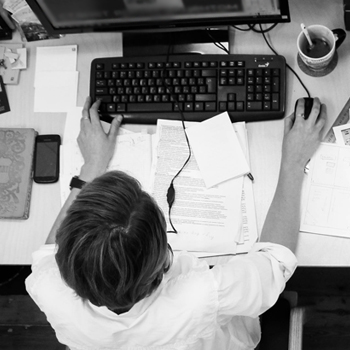 5 July 2017
Successful entrepreneurs respond to adversity well. The early career of technology pioneer, Stephen Dorsey is a great example.
Several years after graduating from MIT, Dorsey founded AES Data Inc. There he developed one of the world's first microprocessors.
At the time, processing came in the form of chip sets. Five chips made a set and each chip cost almost $200,000 to develop. Also, any software updates meant buying a brand new chip set. AES Data's advantage was programmable processors. These processors cut down development time and allowed for updates.
Dorsey had the vision to identify a very big market space that was emerging for such processors.
In the 1970s if you wanted to type anything, you had to have a typewriter. The only "electronic" alternative was an IBM machine that drove the typewriter for you. People were ready for a change, they were ready for a screen.
In 1972 AES. used its programmable chips in their first product the AES 90. They called it a "word processing system", but it was actually the first real personal computer. The product was a huge success creating more than $200 million in annual sales.
Unfortunately for AES, IBM developed a rental system for the word processor. This proved too costly to compete against using his own money and so Dorsey sold the company.
He continued to work in word processing, this time on his own terms. He founded Micom in 1975 in partnership with Philips, to an even bigger success. He directed the company to $200M+ revenue and over 1,300 employees. Nine years later he sold his part of Micom to Phillips.
After 40+ years of successes, Steve says this was his biggest learning:
"O.P.M. Use Other people's money." Is likely the easier path."
Because there was no VC industry in Canada. With AES I learned how to grow a company using my own money and earnings.. The down side is that boot strapping is a slow process, but you're in total control. If things go great, you can't fully realize your vision. Also if things go awry you're on your own. With AES we were at high risk because we were under capitalized."
"With Phillips backing Micom, we were able to achieve our goal, without worrying about the financials. My advice to entrepreneurs today would be to find a way to get seed capital. Getting funded will be the best way to realize your vision, though being in complete control can be enticing."
Dorsey defied expectations when he bounced back with Micom. He achieved his full vision and took calculated risks because of financial freedom. Many entrepreneurs fund themselves and find some success. But, it's the ability to take risks and innovate that make funding worthwhile. The risks and challenges that come with innovating build the "successful" entrepreneur.